International Artist-in-Residence-Programme Villa Concordia, Bamberg
German artists and artists from another country stay together at Villa Concordia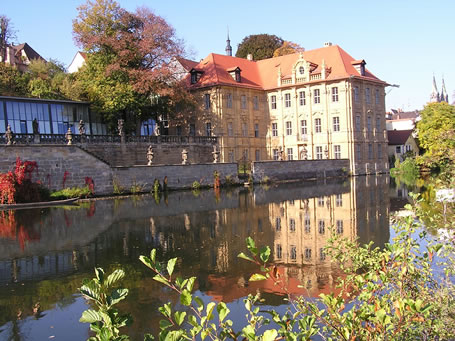 The Bamberg-based Villa Concordia (International Artist-in-Residence-Programme) was founded in 1997. This institution is meant to promote and cultivate the arts and to intensify Bavaria's cultural relations with foreign countries. By welcoming artists from other European countries, the Free State of Bavaria intends to contribute to promoting the European idea.

Furthermore, by co-operating with local institutions and hosting public performances of the scholarship holders as well as its own events, Villa Concordia is meant to contribute to cultural life in the city of Bamberg and the surrounding region.

According to the concept of admission, six German artists from the fields of literature, fine arts and music (composition) and six artists of the same professions from another country stay at Villa Concordia for a period of either 5 or 11 months. Apart from free lodging and working space (studio or workshop located on the premises), they are granted a monthly scholarship in cash and, within the scope of available funds, an additional grant for the purpose of carrying out their artistic projects.
In past years, artists from e.g. Portugal, Iceland, Switzerland, Russia, Spain, Norway, Italy, Greece, Lithuania, Great Britain and Slovenia were invited. In 2021 artists from Finland received invitiations to the Villa Concordia, and in 2022 the foreign awardees are coming from France.

Awardees are selected by the board of trustees of the international Artist-in-Residence-Programme, by official bodies of their countries of origin, or by commissioned experts. Artists may not apply for the scholarships themselves. 
Contact information
Concordiastrasse 28
96049 Bamberg
Germany
Tel.: +49(0)951 955010