Bavarian State Archives
Archives form the collective cultural memory of mankind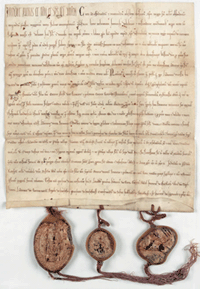 Bavaria is a state with a rich cultural heritage, which has grown over centuries. It is important to preserve this heritage. The Bavarian State Archives play a key role in this process. They preserve records of the past, make them accessible and available to scientific researchers and the interested public, for example to do genealogical research. In addition, by organizing exhibitions and publishing editions of records, the Bavarian State Archives engage in historical-political education.

According to the stipulations of the Bavarian Law on Archives, the Bavarian State Archives keep records such as deeds, files, maps and blue-prints of the administration of the Bavarian State Government and its predecessors since the emergence of written documents for administrative purposes until today.
The oldest charter dates back to 777 AD. The number of documents, which are archived in the whole of Bavaria, totals more than 44 million archival units, filling more than 240,000 running metres of shelves. Each year, about 550,000 archival units (5,000 running metres) are added.

Apart from the Main Bavarian State Archives in Munich, there are eight Bavarian State Archives in Amberg, Augsburg, Bamberg, Coburg, Landshut, Munich, Nuremberg, and Wuerzburg.

The head office of the Bavarian State Archives presides over and manages the Bavarian State Archives. It is also responsible for running the State Archives' own school for recruiting and training future generations of registrars. The head office of the Bavarian State Archives also co-ordinates the organisation's main activities and, as the competent authority, represents all public and private archives and registries on behalf of the Free State of Bavaria.

The introduction of electronic filing within the Bavarian Government – and along with it processing and storing the authorities' digital data – constitutes a major challenge for the Bavarian State Archives. By building a new digital archive, the Bavarian State Archives will see to the preservation of electronic and paper files for future generations. Part of the archival records of the Bavarian State Archives may already be searched online.